Analysis of HETLOC data
From NMR Wiki
HETLOC [1, 2] experiment can be used to obtain one, two, three and more -bond separated heteronuclear J couplings as well as their relative signs, which depend on the conformation and stereochemical arrangement of atoms in the molecule.
HETLOC experiment has a limitation that it won't show couplings to carbon atoms (or other X-nuclei to which HETLOC experiment might be tuned) not connected to a proton. That is because intrinsically HETLOC is a TOCSY experiment.
Before starting to analyze spectrum, list the couplings to be collected (chances are all observable couplings won't be needed).
Then, open HETLOC spectrum, and for a given coupling between atoms Cx and Hy:
draw a horizontal line at ω1 (usually vertical dimension) = δ(Hx) - i.e. chemical shift of Cx-attached proton.
draw a vertical line at ω2 = δ(Hy)
alternatively move a cursor so that cross-hairs correspond to those lines
note the point of intersection of the two lines
somewhere symmetric to that point along the vertical line there might be two peaks or groups of peaks (i.e. if they are observable)
if the peaks appear to be missing - try redrawing spectrum at lower first contour level (~intensity scale in 2D plane)
two (groups of) peaks will be offset in ω1 by 1JCxHx and in ω2 -by the sought value of nJCxHy
take a careful note about sign of coupling - is the doublet tilted to the left or to the right (i.e. same as main dagonal?)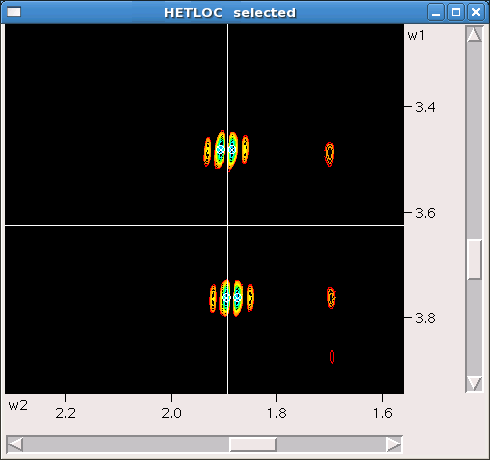 Related documents
Sensitivity- and Gradient- enhanced HETLOC
Dipsi2etgpjcsix1, Sensitivity and Gradient- enhanced HETLOC
References
KURZ, M and SCHMIEDER, P and KESSLER, H. HETLOC, AN EFFICIENT METHOD FOR DETERMING HETERONUCLEAR LONG-RANGE COUPLINGS WITH HETERONUCLEI IN NATURAL ABUNDANCE. Angewandte Chemie International edition in English 30(10):1329--1331, 1991. BibTeX