Reading peak frequencies in Sparky
From NMR Wiki
Looking up peak list
If you want to see frequency of several peaks:
select the peaks of interest
type lt (that will show peak list dialog)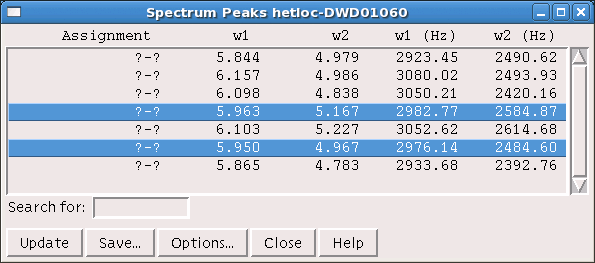 Selected peaks will be highlighted in the list too. Unfortunately selected peaks are not grouped together in the list so you might have to scroll to see them all.
To save peak list into a file click "Save..." button.
Changing content of peak list
By default peak assignments (question marks in this case as peaks were not yet assigned) and their frequencies in ppm will be shown (first three column in the picture above). To see more data click "Options..." button. Then from the menu shown below you will be able to select what kind of data you'd like to see in the peak list. If you click on "Frequency, Hz" checkbox then those values will show in table invoked by lt command.